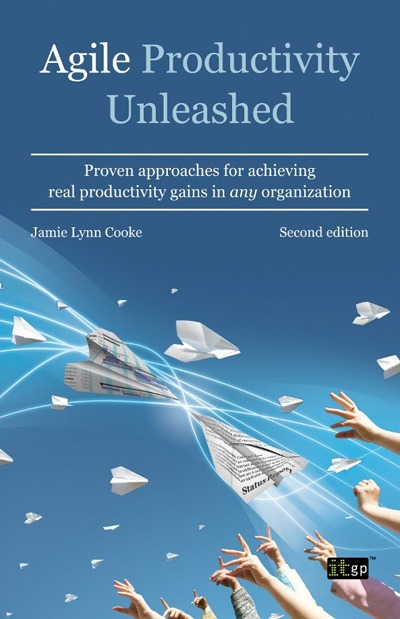 Agile Productivity Unleashed, Second Edition
SKU: 3064
Authors:
Jamie Lynn Cooke
Publishers:
IT Governance Publishing
Format: Softcover
ISBN13: 9781849285636
Pages: 402
Published: 03 Apr 2014
Availability: In stock


Explains the Agile management methodology, and how to make it work for your organisation.
You may also be interested in…
Description
In this new edition of her award-winning book, Jamie Lynn Cooke reveals the secrets of the Agile methodologies that have revolutionized the way that many of the world's most successful companies operate. Written for business professionals and managers, the book explains the core principles of Agile, shows why these approaches work, and demonstrates how to use Agile to significantly increase productivity, quality, and customer satisfaction in any industry.
Benefits of Agile for your organisation:
Proven methods for meeting every project deadline
More accurate status reporting with substantially less paperwork
A highly responsive adaptive management framework with minimal overheads
Greater staff motivation, innovation, and value creation
Significantly more efficient use of limited resources and time
Strategies for leveraging internal and external changes in the organization, including changing market conditions
Better customer relationships, more compelling product development and higher quality outputs through direct stakeholder engagement
More effective use of available budgets to deliver real productivity gains across a range of business activities.
Contents
Agile Productivity Unleashed presents the range of proven Agile methods including Scrum®, Kanban, Feature Driven Development™ (FDD™) and the Dynamic Systems Development Method® (DSDM®) in clear business language. The author then devotes a chapter to explaining each of the 12 Agile Principles that make these approaches consistently successful, and details how to use these methods to tackle the core challenges faced by every organization.

The book concludes by presenting an in-depth case study that compares Agile with traditional approaches for achieving three common business objectives, followed by step-by-step guidelines to make Agile work for your organization, and a range of resources for further reading.

1. Agile in a Nutshell; 2. Why is Agile So Effective?; 3. Why Don't More Organizations Use Agile?; 4. Agile Sounds Good, But...; 5. Responsive Planning; 6. Business-value-driven Work; 7. Hands-on Business Outputs; 8. Real-time Customer Feedback; 9. Immovable Deadlines; 10. Management by Self-motivation; 11. "Just-in-time" Communication; 112. Immediate Status Tracking; 13. Waste Management; 14. Constantly Measurable Quality; 15. Rearview Mirror Checking; 16. Continuous Improvement; 17. Selecting Agile Approaches That Best Meet Your Needs; 18. Introducing Agile Within Your Organization; 19. Using Agile Tools; 20. Expanding the Use of Agile in Your Organization
About the Author
Jamie Lynn Cooke has 24 years of experience as a senior business analyst and solutions consultant, working with more than 130 public and private sector organizations throughout Australia, Canada and the United States. She has been working hands on with Agile approaches since 2003.
Buy this book and learn how to unleash the potential of Agile for your organization.
The first edition of Agile Productivity Unleashed won the AXIOM Business Book Awards Bronze Medal for TQM/Productivity Books in 2011
Customer Reviews