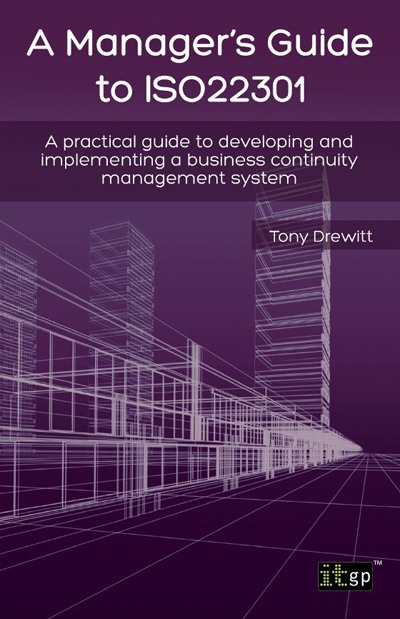 A Manager's Guide to ISO22301
SKU: 1759
Authors:
Tony Drewitt
Publishers:
IT Governance Publishing
Format: Softcover
ISBN13: 9781849284677
Pages: 236
Published: 09 Apr 2013
Availability: Now Available


Practical guidance for developing and implementing a business continuity management system (BCMS) based on the international standard ISO 22301. This book provides:
A concise introduction to business continuity management (BCM) and ISO 22301;
Illustrative examples to help develop a BCMS, including detailed guidance on the business impact analysis (BIA) and risk assessment;
A selection of documentation templates, including a BCM policy document, to save you time; and
Information in a friendly, non-technical style, making it easy to understand and follow.
You may also be interested in…
Description
BCM involves managing risks to ensure that mission-critical functions continue to provide an acceptable level of service, even in the event of a major disaster.
Implementing a BCMS that complies with the international standard ISO 22301 ensures your organisation can provide a minimum acceptable service despite a disruption, and helps preserve corporate reputation and revenue.
A Manager's Guide to ISO22301 provides essential guidance to help successfully develop and implement an ISO 22301-compliant BCMS.
---
Successfully implement an ISO 22301 BCMS with this practical guide
This book is the essential companion guide for those working in business continuity who are looking to introduce or optimise a BCMS aligned with ISO 22301, the only credible framework for effective BCM in the world.
It provides a comprehensive introduction to business continuity, including:
How to develop and implement a business continuity plan based on ISO 22301;
The business continuity strategy, procedures and documentation;
The importance of exercising, testing and evaluation;
How to identify a nonconformity of the BCMS; and
The benefits of achieving ISO 22301 certification.
---
About the author
Customer Reviews