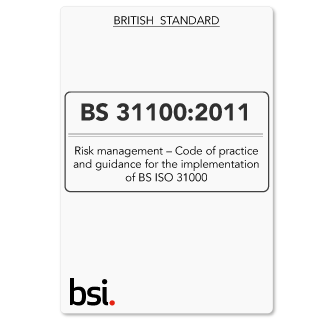 BS31100 (BS 31100) Code of Practice for Risk Management and Guidance for ISO31000
SKU: 2030
Publishers:
British Standards Institute
Format: Hardcopy
ISBN13: 9780580716072
ISBN10: 580716074
Published: 30 Jun 2011
Availability: In Stock

Advice and guidance on proportional risk management within organisations, using real life examples of risk management to explain how to develop, implement and maintain effective risk management in your organisation.
You may also be interested in…
Description
BS 31100 (BS31100): The British Code of Practice for Risk Management & Guidance for ISO31000
BS 31100:2011 provides advice and guidance on developing, implementing and maintaining proportionate and effective risk management aligned with ISO31000. The advice and guidance in BS 31100 is suitable for any organisation.
BS 31100 gives practical and specific recommendations on how to put the key principles of effective risk management into place in your organisation. The information and guidance in BS 31100 will be of interest to anyone with responsibility for:
Ensuring risks are proactively managed in specific areas or activities.
Overseeing risk management in an organisation.
Providing assurance on an organisation's risk management.
Reporting to stakeholders, for example through disclosures in annual financial statements, corporate governance reports or corporate social responsibility reports.
Using the advice and guidance in BS 31100 you will enhance the likelihood of successfully achieving your organisational objectives. It will help you manage any project or organisational risk proportionately.
Customer Reviews