With cyber attacks and data breaches on the rise, cyber security is fast becoming organisations' top priority. Many have chosen to mitigate the risk by implementing an information security management system (ISMS).
An ISMS is a system of processes, documents, technology and people that helps organisations manage, monitor and improve their information security in one place.
ISO 27001 is the international standard that describes best practice for an ISMS.
Good for business
An ISO 27001-compliant ISMS can benefit your organisation in several ways. It enhances your organisation's structure and focus by clearly setting out who is responsible for various information security risks. It also protects and improves your reputation, proving to customers that you take information security seriously and are doing everything you can to keep data secure.
Even if you do suffer a breach, regulators show leniency to organisations that have certified to ISO 27001 because they are able to demonstrate that they are following information security best practice.
---
Free PDF download: Information Security & ISO 27001: An Introduction
---
Good for employees
ISO 27001 mitigates the risk of data breaches, which are often very damaging and can threaten jobs. This isn't necessarily because the organisation needs to balance the cost of responding to a breach (although it's a possibility), but because of the reputational damage caused by a data breach. Customers and third parties might stop working with the organisation, reducing profits and forcing the organisation to scale back.
Second, if employees follow ISO 27001's guidance, the organisation won't be able to blame them for a data breach. This ensures that senior staff fully investigate the reason for the breach instead of scapegoating an employee, who may have been doing everything that they should have.
Adopting the Standard also gives employees more confidence when sharing their personal details with HR. Organisations hold a lot of employee information, so staff will be relieved to know that their personal data is being protected in line with best practice. For example, it mandates that organisations create a centrally managed framework for keeping information secure and that they regularly assess its performance against a set of predetermined criteria.
Getting Started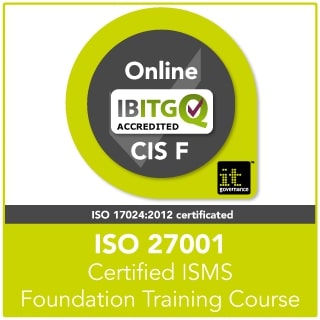 ISO27001 Certified ISMS Foundation Online – Take the first steps towards helping your organisation protect itself from cyber crime. Learn online from the experts how to benefit from ISO 27001 best practice and compliance. Real world expertise and insights.
Developed by ISO 27001 experts Alan Calder and Steve Watkins, and drawing on their industry-leading implementation guide, IT Governance: An International Guide to Data Security and IS027001/ISO27002, this one-day interactive Live Online course explains the benefits of the IEC/ISO 27001:2013 Information Security Management standard and provides a complete introduction to the key elements required to achieve its best practice and compliance.
Using a combination of formal training, practical exercises and relevant case studies, an experienced ISO 27001 trainer and consultant will:
Identify the risks associated with cyber crime for an individual and an organisation
Help you understand the benefits of ISO 27001 best practice and certification
Explain the elements of implementation including risk assessment and Annex A controls
This course also supports professional development: delegates who pass the included exam are awarded the ISO 17024-certificated, ISO27001 Certified ISMS Foundation (CIS F) qualification by IBITGQ.
---