The overall costs of cyber security incidents and data breaches are reported to be much higher than the financial impact of burglary throughout the EU.
And with GDPR fines for breached organisations up to 4% of global turnover, or €20 million, whichever is the greater, you cannot afford to ignore this immediate compliance challenge.
According to a report by TRUSTe Inc, 35% or organisations have not actively started preparing for the Regulation, with 55% saying that they need more detailed guidance on the requirements.
Now you can sufficiently prepare for the GDPR with qualified expertise, resources and tools from international data security experts, IT Governance.
Face the GDPR compliance challenge head on with this comprehensive set of resources:
Certified EU GDPR Foundation training course
This one-day training course provides a solid introduction to the GDPR, and a practical understanding of the implications and legal requirements of the Regulation.
---
Certified EU GDPR Practitioner training course
Delegates will be able to fulfil the role of data protection officer (DPO) under the GDPR using this course's in-depth coverage of the Regulation.
---
Get all the critical documents your organisation needs to comply with the EU GDPR.
---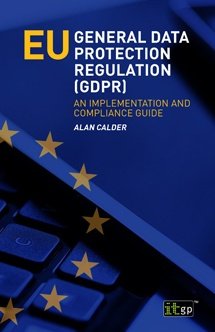 EU General Data Protection Regulation (GDPR) – An Implementation and Compliance Guide
This comprehensive manual will provide detailed insights into the EU GDPR and practical implementation advice on setting up and managing a privacy programme.